Hawaii is a world-renowned destination known for its white sand beaches, turquoise waters, and stunning volcanic landscapes. The islands offer visitors an unforgettable experience filled with adventure, relaxation, and culture. Whether you're interested in surfing the waves or hiking through lush rainforests, Hawaii has something for everyone.
The island chain consists of eight major islands, each with its own unique atmosphere and attractions. Some of the most popular islands for tourists include Oahu, Maui, Kauai, and the Big Island. Oahu is known for its bustling city of Honolulu, while Maui is famous for its picturesque beaches and scenic drives. Kauai is home to the spectacular Na Pali Coast, and the Big Island offers a chance to witness the active Kilauea Volcano up close.
One of the main attractions in Hawaii is its stunning beaches. From the famous Waikiki Beach to the secluded Hanalei Bay, there is a beach to suit every type of traveler. Surfing, snorkeling, and swimming are all popular activities, and many beaches offer equipment rentals and lessons for those who want to try something new.
In addition to its natural beauty, Hawaii is also rich in culture and history. Visitors can explore ancient temples, learn about the traditions of the Hawaiian people, and experience a traditional luau complete with hula dancing and fire knife performances. The state also has a thriving arts scene, with galleries and museums showcasing the work of local artists.
Hawaii is also home to an abundance of outdoor activities, from hiking and biking to horseback riding and ziplining. One of the most popular hikes is the Kalalau Trail on Kauai, which takes hikers through lush forests and along stunning cliffside views. The islands are also a prime location for whale watching, with humpback whales visiting the waters from December to May.
Of course, no trip to Hawaii would be complete without sampling some of the delicious local cuisine. The state is famous for its fresh seafood, tropical fruits, and fusion cuisine that blends Hawaiian, Japanese, and other international flavors. Some must-try dishes include poke (raw fish salad), kalua pig (slow-roasted pork), and shave ice (a refreshing dessert made with flavored syrups).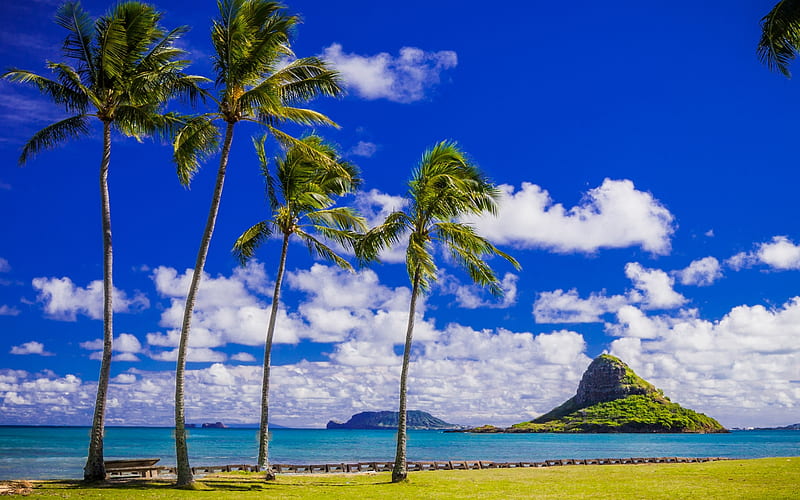 Overall, Hawaii offers visitors an unforgettable experience that combines natural beauty, adventure, and culture. Whether you're looking to relax on a beach or explore the great outdoors, the islands have something for everyone.